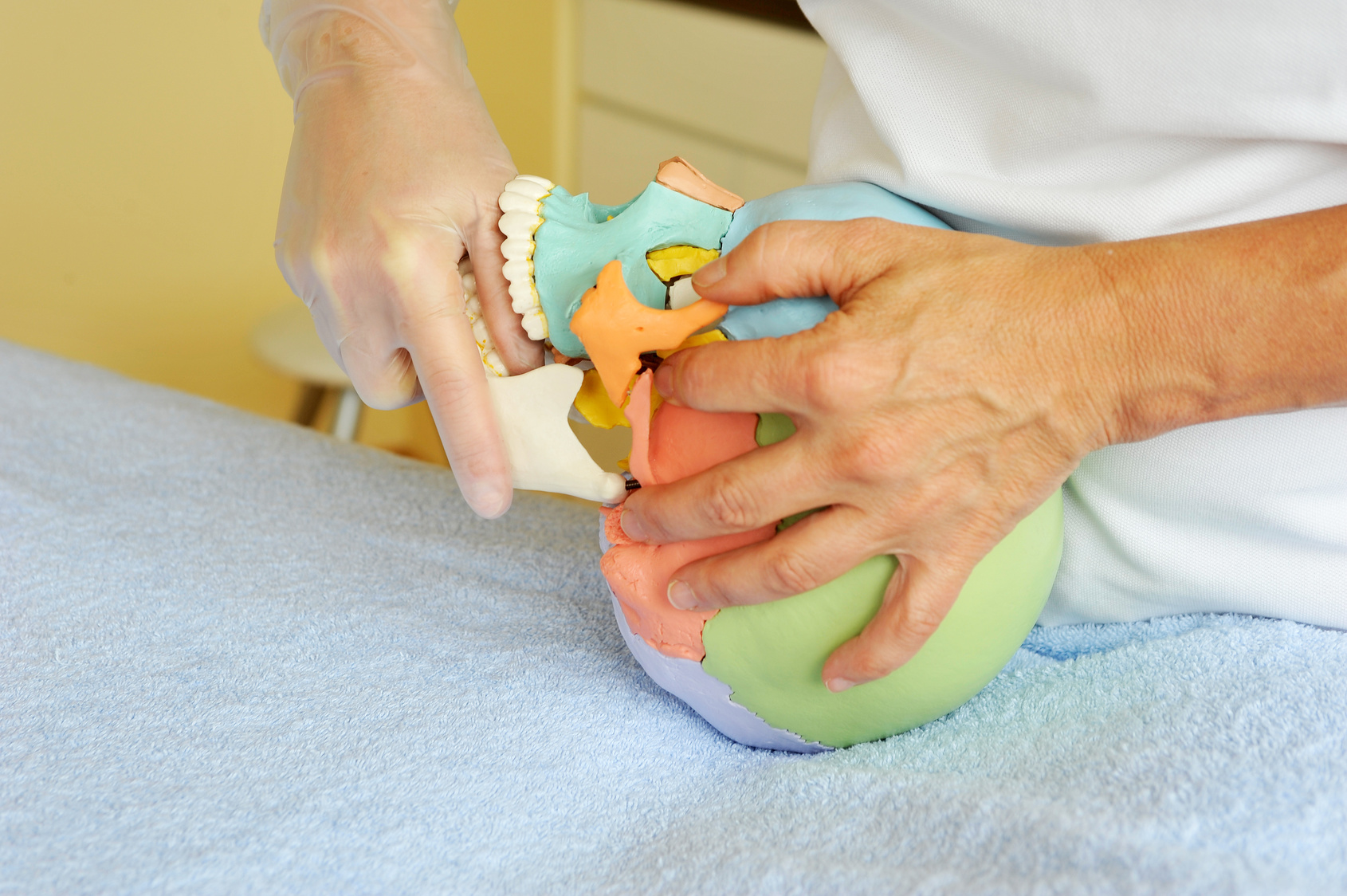 Temporomandibular joints – diagnostics and therapy
Course in English, translated into Polish.
If you want to profile yourself more professionally as a therapist in the field of functional
mouth and jaw treatment, this course will offer you an opportunity to do so. From a functional
point of view you will be able to cooperate with dentists who rely on your therapeutic help for
treatment of TMJ dysfunctions.
We will not only approach the dysfunctions of the TMJ from a local symptomatic perspective.
You will learn how the TMJ can be both a hub and a compensation for physical and
psychological processes during our lives. When the adaptation of the TMJ starts to tend out
of its dynamic equilibrium there may be a TMJ dysfunction which can express itself in a lot of
compensations towards other body regions.
Module 1 will cover the TMJ and it's local assessment, pathology and treatment. Next to that
the mechanisms of compensation towards the spine, cervical and suboccipital region are
explained and elaborated. Treatment techniques of the TMJ consist of soft tissue
techniques, mobilisations, corrective mobilisations and manipulation techniques.
Module 2 covers the possible connection of TMJ towards vertigo and dizziness, vocal
problems, tinnitus, eyesight, sinusitis, speech and headaches. You will also learn how to act
and react in cooperation with a dentist in case of orthodontia and other corrective dental
work.
Course program:
Module I:
Day 1
9:00-17:30
Functional anatomy and palpation of TMJ
o Local: Bones, disc, muscles, innervation, blood supply, …
o Direct links: OAA, cranium
The process of occlusion (biomechanics)
o Understanding TMJ movement with anatomy
o Jaw tracking
o Mastication process
Assessment of the TMJ
o Local: TMJ
o Links: OAA complex, suboccipital muscles, ant cerv region, hyoid, suprahyoidal muscles
o Cranial (temporal)
Pathology and dysfunction
o Red flags
o Local lesion (clicking, subluxation, joint and disc lesions)
o Referred pain (diff headache types, muscular, trigger points)
o Functional relations (tinnitus, vertigo, sinusitis, apneu, maxilla-facial dysmorphosis,
dysphagia, vocal problems)
Day 2
9:00-15:30
From mandibular position to posture
o Understanding relationship of TMJ to the body
o Biotypologies (eutonic, hypotonic, hypertonic)
o Neuromuscular systems
o Lingual system
o Myofascial connections
o Understanding relationship of TMJ to the cranium
o Viscerocranium development
Physiology and concepts of TMJ treatment
o Treatment techniques (extra- and intrabuccal techniques)
▪ Soft tissue techniques local and surrounding muscles
▪ Mobilisation techniques for TMJ, ant throat complex, hyoid, OAA
▪ Intra-osseous techniques mandibula
▪ Cranial techniques
▪ Techniques for limited opening, limited closing of mouth
High velocity thrust techniques for TMJ
Module II:
Day 1
9:00-17:30
Repetition
TMJ Assessment
TMJ treatment techniques
Soft tissue
Mobilisation
Treatment techniques
TMJ and tinnitus
Differential diagnosis of tinnitus
Assessment and treatment of tinnitus
TMJ and hearing problems
TMJ and vertigo
Differential diagnosis of vertigo
Assessment and treatment of vertigo
Vocal problems, dysphagia and vision problems
Differential diagnosis and red flags
Assessment and treatment techniques
Headaches
Different types and symptomatology
Assessment and treatment techniques
Day 2
9:00-15:30
Sinusitis
Etiology and visceral component
Treatment techniques
Orthodoncy
Effects and possible complaints
Role of the therapist
Treatment techniques
Sleep apneu
The lingual complex
Assessment and treatment techniques
The assessment and treatment techniques are focused on the neurocranium, the
viscerocranium, the high cervical complex, the craniosacral system and the cranial
nerves. The techniques include examination and treatment techniques and are
specifically combined towards the discussed signs and symptoms to give you the
expertise for a correct treatment approach. The course will further allow you to intensify
cooperation with dentists and general practitioners in symptomatic situations as covered
in the course.
Each participant receives a script and a certificate in English.
INSTRUCTOR:
Hans Fauville MSc Ost DO
a professional osteopath, senior lecturer and co-principal of FICO – osteopathy academy. After his Master in Physiotherapy he finished the FICO (Flanders International College of Osteopathy) osteopathy education in Belgium, followed by a BSc and MSc in Osteopathy in Germany, Dresden. Teaching has been a passion for the last decade, and now he is a senior teacher on visceral manipulation, vertebral manipulation and has great expertise in teaching differential diagnostics. Since 5 years he has evolved to being a principal of FICO – osteopathy academy Belgium and Poland.